Intergovernmental
The IDB is bringing responsible and ethical AI to Latin America and the Caribbean
The IDB created fAIr LAC for the responsible and ethical use of AI, better social services and to reduce inequality.
Artificial intelligence (AI) could generate an additional USD 15.7 trillion to the world economy in 2030, which would represent a 14% increase in global GDP. Under that scenario, the greatest economic benefits are likely to be in China (increase up to 26% in GDP by 2030) and North America (14.5% increase in the same period). According to a 2017 PwC report, if the current trend remains, Latin America would only capture 5.4% of this sum, which would result in a competitive disadvantage increasing its lag in comparison to other regions.
AI has the potential to transform societies and the social services we receive, but in some ways it  appears to be on track to widen the inequality gap. How can we leverage AI to benefit the public, and how do we ensure it is used responsibly?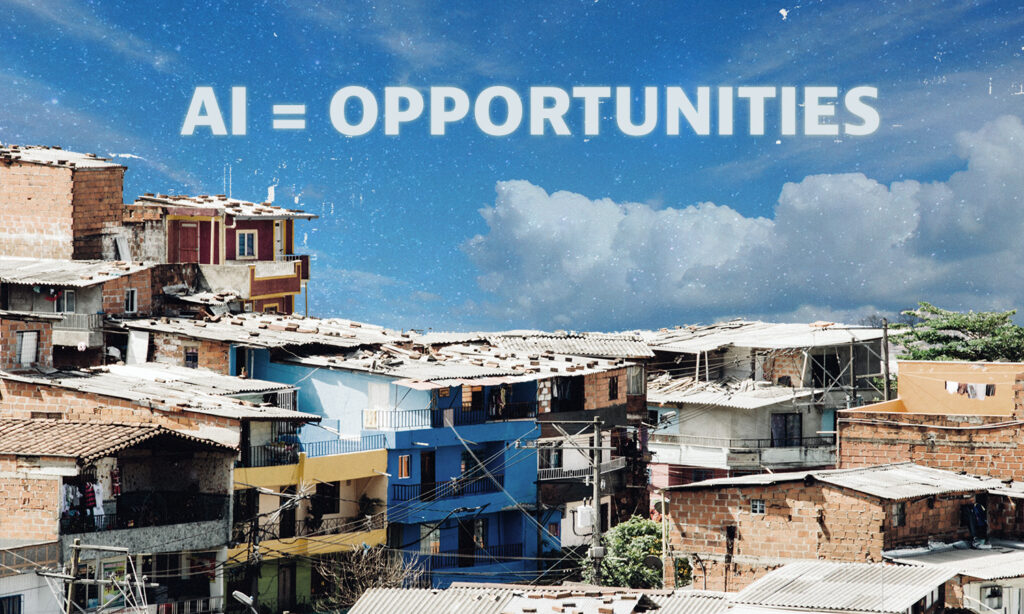 Equitable and ethical AI could help to solve numerous social challenges
A Stanford University study contradicts pessimistic predictions of AI as an imminent threat to humankind, pointing to increasingly useful applications. These applications that are likely to emerge between now and 2030 would have positive impacts on our society. For the Latin America and Caribbean region, this is particularly good news. Many of LAC's most pressing and intractable social challenges can be tackled with the help of new technologies. Indeed, governments acknowledge this potential and they turn to AI applications to design AI-based models/systems that can prevent social challenges or have a high potential to alleviate them.
The challenges that AI could help solve are numerous. For example, in Latin America, 64 million people are diagnosed with diabetes mellitus, and 35% of them have never been seen by an ophthalmologist. School dropout is also a major concernin Latin America, where more than 22% of students between 18 and 24 years old drop out of school before finishing high school.
Before becoming a problem solver, AI has to face its own challenges, despite the accelerated pace of adoption: How do we ensure that AI is used to benefit all and not only a few, thus widening social inequalities and amplifying existing biases and discrimination? How can we help to take advantage of the opportunities offered by the AI revolution without creating new AI-related problems? In a world where societies depend on technologies for almost everything, finding the right answer to these questions is crucial. Without those responses, we cannot design a social contract modelled on dignity, accessibility, and equality in opportunities.
fAIr LAC: the IDB's initiative for ethical and socially beneficial AI
With that in mind, the Inter-American Development Bank created the fAIr LAC initiative in 2019 to promote the responsible and ethical use of AI, improve social services and mitigate the region's growing social inequality. fAIr LAC brings together multidisciplinary and multisectoral actors as a network of practitioners and experts. Their skills and backgrounds are diverse, from big tech to philosophy. Together, their mission is to offer support to developing AI tools, knowledge products, and policy recommendations for socially beneficial AI.Consider changing for: fAIr LAC also includes a regional observatory to map and track AI projects and AI use cases. The observatory's mission is to inform the conversation by mapping and identifying the diverse uses and actors who are implementing AI in the region.
The AI ecosystem is rooted in vague or undefined ethical principles, which is why fAIr LAC has adopted the OECD Principles on AI. The OECD framework helps fAIr LAC to identify challenges that arise when attempting to apply ethical principles while managing the risks that come with deploying AI. As a response, fAIr LAC is developing mechanisms for governments and entrepreneurs to mitigate risks, including self-regulation, self-assessment processes, regulatory and data sharing frameworks (Figure 1).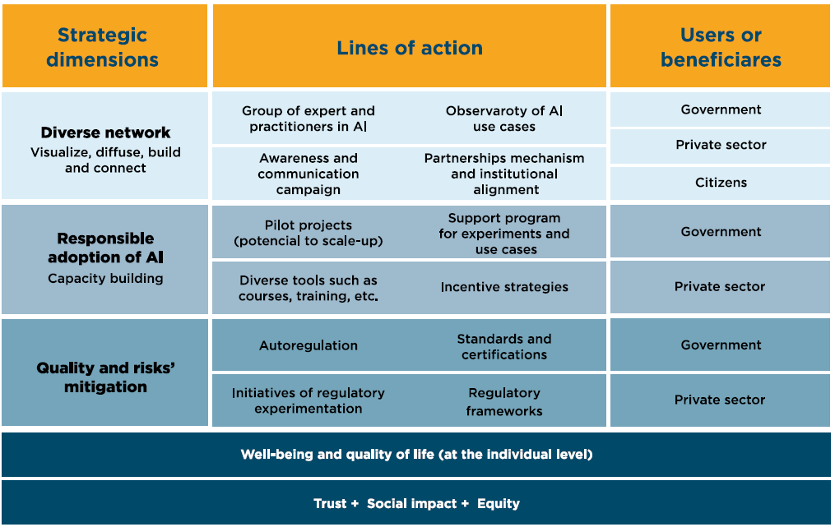 fAIr LAC is also producing technical guidelines that are aimed to foster algorithmic justice and equity addressing a range of challenges: class imbalance, external validity, discriminatory biases, explicability, etc. (Figure 2).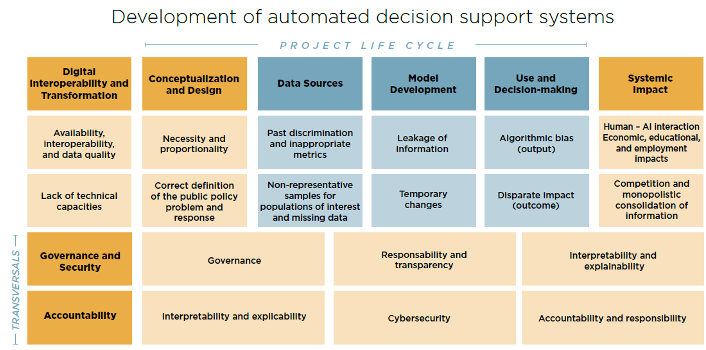 While giving clarity to the risks involved with AI and the tools to lessen them, fAIr LAC encourages responsible adoption of AI by developing pilot projects. Projects focus on pressing social issues in the region: education, health, social protection, migration, and labour markets. In that way, fAIr LAC is becoming a force for public good in the region, to promote fair and inclusive AI solutions that benefit vulnerable and historically excluded populations (Figure 3).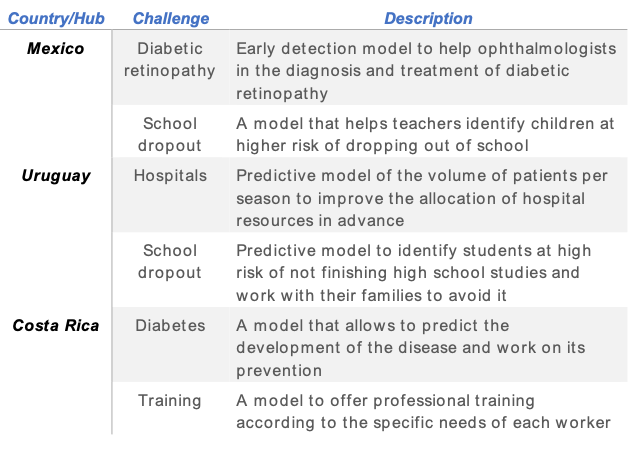 ---
Sign up for OECD artificial intelligence newsletter
---