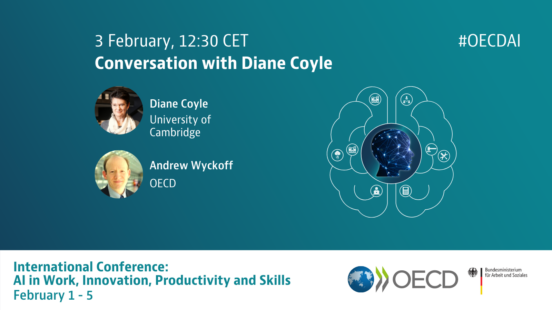 Conversation with Diane Coyle
–
In this session, the University of Cambridge's Bennett Professor of Public Policy, Diane Coyle, will speak with OECD Director of Science, Technology and Innovation, Andrew Wyckoff, about her views on AI and productivity, the technology's impacts on digital markets and competition, and the potential implications of AI's diffusion for achieving social objectives.
AI in our Futures: Stakeholder perspectives
–
As artificial intelligence reshapes our futures, what do OECD's stakeholders consider to be the opportunities and challenges for work, innovation, productivity and skills? In this roundtable session, representatives from business (Business at OECD), labour (TUAC), civil society (CSISAC) and the technical community (ITAC) will share their views and offer insights from their communities on the evidence gaps and policy priorities where the OECD can advance the debate.
Andrew Wyckoff's documents