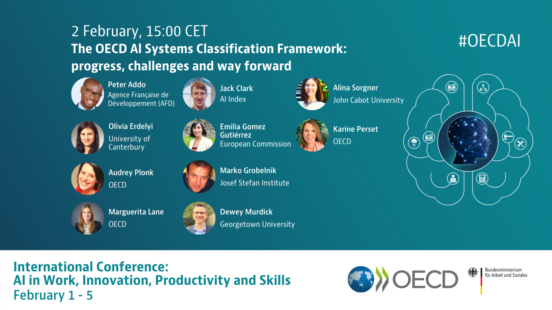 The OECD Al Systems Classification Framework
–
The OECD's Network of Experts on AI developed a user-friendly framework to classify AI systems. It provides a structure for assessing and classifying AI systems according to their impact on public policy following the OECD AI Principles. This session discusses the four dimensions of the draft OECD AI Systems Classification Framework, illustrates the usefulness of the framework using concrete AI systems as examples, and seeks feedback and comments to support finalisation of the framework. Aclassification framework to understand the labour market impact will also be introduced.
AI in our Futures: Stakeholder perspectives
–
As artificial intelligence reshapes our futures, what do OECD's stakeholders consider to be the opportunities and challenges for work, innovation, productivity and skills? In this roundtable session, representatives from business (Business at OECD), labour (TUAC), civil society (CSISAC) and the technical community (ITAC) will share their views and offer insights from their communities on the evidence gaps and policy priorities where the OECD can advance the debate.