Intergovernmental
A responsible AI strategy for climate action
Recommendations for government action ahead of COP26 from the Centre for AI and Climate Change, Global Partnership on Artificial Intelligence, and Climate Change AI
With COP26 on the horizon, the year 2021 has already seen a cascade of record-breaking natural disasters. Deadly floods washed away entire towns and killed hundreds of people in Western Europe and China, while the most extreme wildfires in decades ravaged Italy, Greece and Turkey and a one-in-a-thousand-years heatwave gripped the Pacific Northwest. Recent scientific reports, including from the IPCC, conclude that we are in a state of climate emergency, which calls for the mobilization of all actors across politics, business, science, and civil society.
This is why the Responsible AI Working Group (RAI WG) of the Global Partnership on AI (GPAI), a forum where governments and experts can come together to discuss the development of AI, has created a Committee on Climate Action and Biodiversity Preservation to start to address questions regarding AI's potential to support climate action. 
Together with its delivery partners, Climate Change AI (CCAI) and the Centre for AI & Climate (CAIC), GPAI is releasing its initial strategy to support the governments of GPAI member states and beyond in their responsible adoption of AI for climate action. We are pleased to share today the preliminary report for discussion at COP26, which will be adopted by the RAI WG at the GPAI Summit on 11-12 November.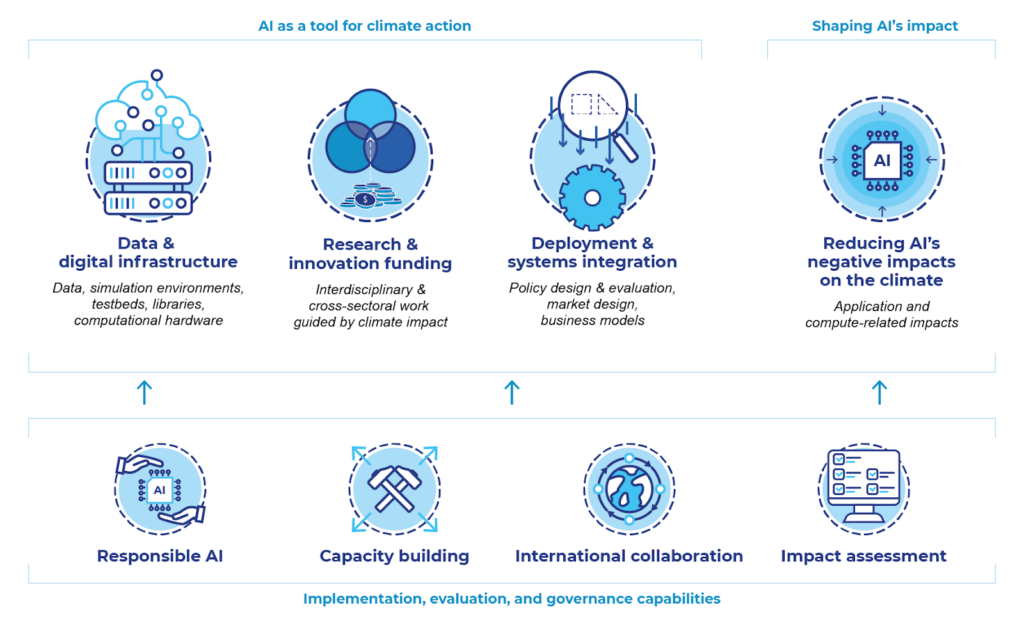 Responsible AI in the context of climate action
Artificial intelligence is a general-purpose tool that needs to be developed responsibly in all contexts. Many principles of responsible AI — such as fairness and equity, accountability, safety, privacy, security, and robustness — are common across areas of application, and are each already the subject of extensive policy recommendations. The forms these principles take within climate-relevant contexts are, however, noteworthy. 
In the context of climate action, responsible AI also means rejecting "techno-solutionism" and not overblowing its potential. It means not underestimating its risks and drawbacks for climate goals. It means embedding responsible AI principles into the design of climate initiatives and governance structures, which includes fostering the inclusion of participants from civil society, local governments, the Global South, and marginalized groups. We propose that governments can promote the responsible adoption of AI for climate action by:
Establishing and implementing standards and/or best practices guiding the responsible practice and participatory design of AI in climate contexts. 
Including participation stipends for experts and civil society participants within the budgets of governmental task forces and committees aimed at shaping AI-for-climate initiatives.
Incorporating climate and environmental assessment and reporting into AI regulation and strategies more broadly.
Most importantly, responsible AI is not a one-off consideration: The implementation and evaluation of the responsible AI considerations detailed above must be a continuous, rather than a one-off, process. 

Harnessing AI's potential to address climate change
When adopted responsibly,  AI has significant opportunities to accelerate climate action via applications such as forecasting solar power production, optimizing building heating and cooling systems, pinpointing deforestation from satellite imagery, and analyzing corporate financial disclosures for climate-relevant information.
Given the short time scales on which society must address climate change, it will be critical that responsible climate solutions be rapidly deployed and scaled across key sectors. We propose that governments can take leadership in supporting the use of AI to address climate change by:
Fostering the responsible development of and access to data and digital infrastructure — e.g., relevant data, simulation environments, testbeds, model libraries, and computational hardware — that can support the development and adoption of AI-for-climate applications.
Targeting research and innovation funding to enable interdisciplinary and cross-sectoral work at the intersection of AI and climate change that is guided by climate impact. 
Supporting deployment and systems integration of AI-for-climate applications via targeted policy design and evaluation, market design, and business models, including within highly-regulated sectors such as energy, transportation, agriculture, and heavy industry.
Reducing AI's negative impact on the climate
Responsible AI also means acknowledging the ways in which AI can affect and even increase greenhouse gas emissions in three principal ways: 
a) via its use for applications with immediate negative impacts on emissions,
b) via system-level impacts such as induced demand or lock-in effects associated with AI applications,
c) via the carbon footprint associated with the life-cycle impacts of the associated software and hardware.
We recommend that governments can work to reduce the negative impacts of AI by:
Avoiding direct governmental funding of applications that run counter to climate goals. 
Making climate change a central consideration when fostering the development of AI-enabled technologies.
Ensuring that cloud compute is appropriately included in reporting and carbon pricing policies.
Procuring AI and compute services only from companies that have signed up to a net zero target covering scopes 1, 2, and 3.
Building AI's climate capabilities
AI capabilities in the context of climate change must be built across a wide range of organizations, including governmental entities at the international, national, and local levels, as well as private and civil society organizations in climate-relevant sectors (e.g., energy, transport, heavy industry, or agriculture). We propose that governments can support the development of relevant institutional capabilities by:
Fostering climate-cognizant impact assessment of AI via collection of data on AI's emissions impacts, and by establishing standard measurement and reporting frameworks.
Building capacity for implementation, evaluation, and governance in the form of literacy, skills and talent, standards, tools, and best practices.
Fostering multilateral and international collaborations between governments to prevent unnecessary duplication, facilitate knowledge sharing, and strengthen overall efforts.
Towards action
This report is intended to help guide the action of the governments of GPAI Member States and beyond about how to support the responsible adoption of AI for climate action. It is the first step of a program of activities that GPAI will support in this space that we hope will forge concrete international cooperation programs in the form of joint investment in research, development, innovation, regulation, and capacity-building.
Following its adoption at the GPAI Summit on 11-12 November 2021, GPAI will build on the report's recommendations in ways that can further support policymakers, investors, and developer communities in its implementation, including a framework for measuring progress, benchmarks, and impacts. The scope will also be widened to assess how AI can help preserve biodiversity, and how GPAI and its community can support efforts in this space, supporting policy makers, developer communities, and investors in meeting this crucial challenge. 
You can read the full preliminary report here
---
Inscrivez-vous pour recevoir des alertes de notre blog, le AI Wonk:
---
Inclusive growth, sustainable development and well-being
International co-operation for trustworthy AI
Environment
Climate change
GPAI
---