Intergovernmental
AI must not make women's working lives worse
As AI systems affect the working lives of more women, we must ensure these new technologies help to close gender gaps, not widen them.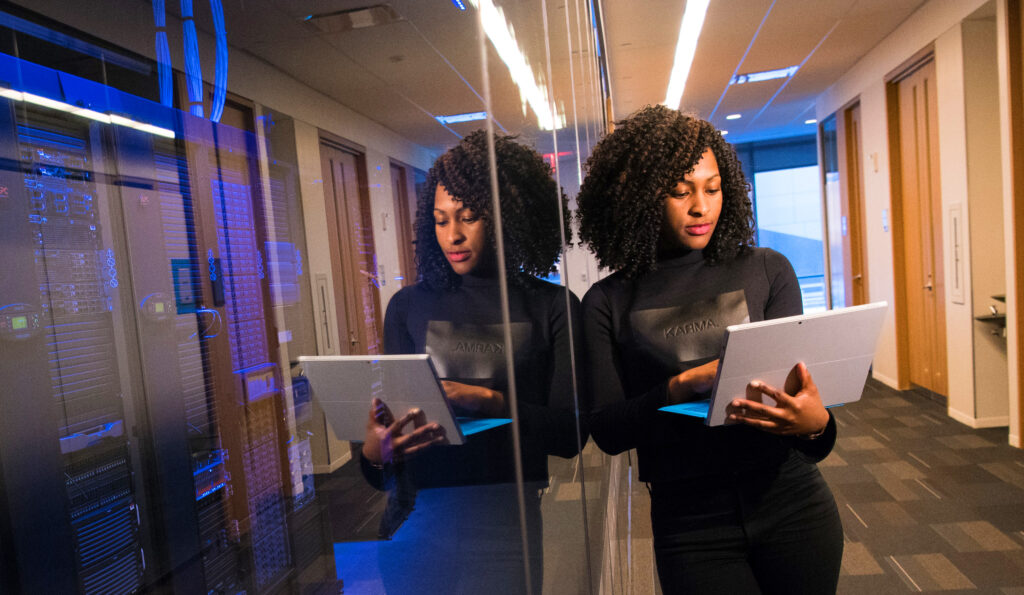 Professor Neff contributed to a new joint report "The effects of AI on the working lives of women" launched on International Women's Day 2022 (8 March). 
Work around the globe is increasingly shaped by new technologies powered by artificial intelligence (AI). 
Developments in AI are already impacting women at work and we need to make sure the digital economy does not leave women behind. 
Today's AI systems can present serious biases against women because AI systems are designed with data that look toward the past, while we as a society must look forward. 
A new joint report from the Organisation for Economic Co-operation and Development (OECD), the United National Educational, Scientific and Cultural Organisation (UNESCO) and the Inter-American Development Bank (IDB), and researchers at the Universities of Cambridge and Oxford provides an overview of the existing research into how AI has affected and may continue to affect women's working lives. 
While emerging AI systems may present challenges to the working lives of women, their impacts are not yet fixed.
Recruitment
AI today is powering many job search engines, online job advertisements and recommendations, and being used to automate some parts of the hiring process for large companies.
Using historical data on women's workforce participation can skew whose work counts in these new systems. For example, AI hiring systems that are based on successful past hires in the tech sector, where women are underrepresented, may perpetuate bias going forward, making gender inequality in the sector worse. 
Digital skills
The use of AI is also changing the types of skills that employers demand. 
Automation fueled by AI eliminates the need for some skills, like clerical support, while increasing the demand for specialist skills for the digital economy. 
Research shows that working women today hold fewer senior positions, are less likely to have skills in Science, Technology, Engineering and Mathematics (STEM), hold more precarious jobs and, on average, are paid less for the same work compared to their male counterparts. 
The opportunity is that powerful new AI systems can help close these gender gaps, not widen them. The challenge is that we do not yet know enough about how women and women's work will be impacted by these systems. 
Management by AI 
New AI workplace performance monitoring systems measure communication skills, digital and physical task productivity, time spent at work and the potential of employee retention. But these new management tools have the potential to build in detrimental gender stereotypes if they are based on data from today's unequal workplaces. 
For example, systems that judge how employees interact with customers might rank men higher if the standards are based on traits like assertiveness or confidence that men have been traditionally taught to adopt. 
Solutions for closing gender gaps and biases with AI
There are many positive potential impacts of AI tools and technologies, like helping to close persistent gender gaps and gender biases. For example, an IDB report argued that correct and responsible use of information-intensive AI search has the potential to speed up services processes, customise them and potentially mitigate biases that lead to employment discrimination (Artificial Intelligence for Job Seeking (2020), IDB). Our joint report identifies important projects to use AI to help African women farmers, support women entering the tech industry in Latin America, and combat harassment at work.   
There is still work to be done. 
We must work to reskill and upskill women workers to get ready for these changes and recruit and retain more women in STEM industries. 
A 2019 UNESCO report found that women represent only 29% of science R&D positions globally and are 25% less likely than men to know how to leverage digital technology for basic uses. Data available on OECD.AI shows that in 2021, on average for all available countries, the share of women credited with authoring or co-authoring scientific publications was below 20%. 
For AI systems to work fairly, they should be designed to account for contextual and cultural complexity. The different speed of technology adoption between Global North and Global South points to the potential for variation in these future transformations that should be addressed when rolling out new systems. 
The role of women at work, and their often unpaid and unequally distributed domestic and care responsibilities, must be more thoroughly considered when creating equal work environments for women. This includes the design, policy and implementation surrounding AI technologies that support work, workers and workplaces. 
Finally, there are roles for the private sector, governments and civil society to play in ensuring women thrive in an AI-enabled future. Those who are developing and overseeing the use of AI systems in the workplace need to ensure transparency and accountability as well as share research and data. This will allow governments, organisations, academics and others to monitor and mitigate gender bias in AI systems.
We need more research on the contexts of technology adoption in the Global South, and on the impact of AI technologies on women and minority groups. Examples of challenges and opportunities for AI in workplaces overwhelmingly draw from experiences in the Global North. 
Without intentional attention to fairness, the widespread use of AI tools and technologies risks setting back our collective goal of achieving gender equality. 
Discrimination, bias, and fairness in the design and use of AI tools must be addressed.
Through further research and action, we can ensure that AI's use and adoption in workplaces around the world is trustworthy and a force for good on the working lives of women.
---
Inscrivez-vous pour recevoir des alertes de notre blog, le AI Wonk:
---
Building human capacity and preparing for labour market transformation
Human-centred values and fairness
Inclusive growth, sustainable development and well-being
International co-operation for trustworthy AI
Investing in AI research and development
Employment
Social & welfare issues
AI Productivity
Labour Markets
Skills
---