Intergovernmental
Google search terms can say a lot about how countries use artificial intelligence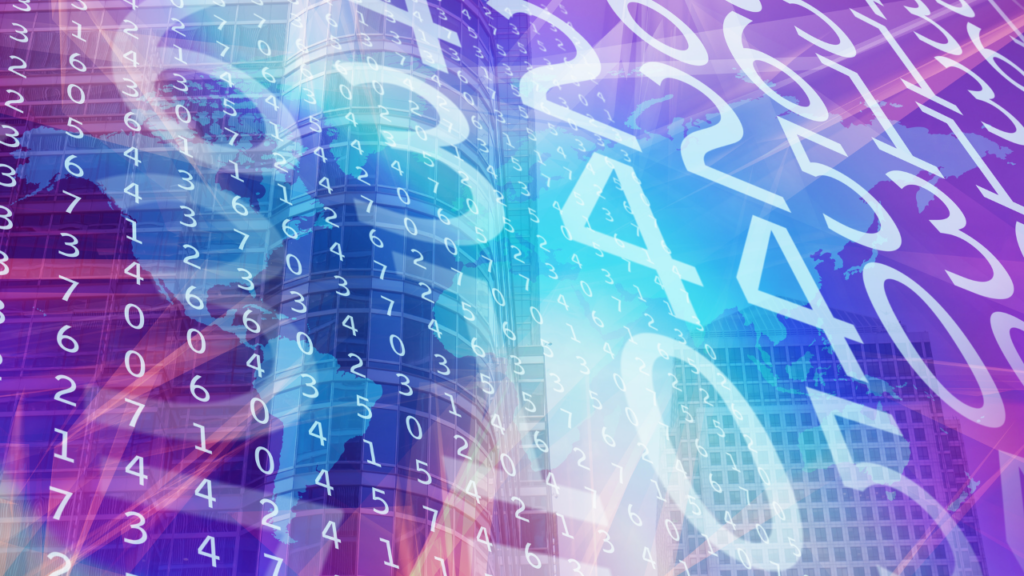 Google Trends is one of many data sources available through the oecd.ai live data and trends platform.  From Google Trends, we extract aggregate search data to identify emerging and popular topics related to AI.  These insights enable us to identify topics of interest across the globe and analyze how policies shape the public perception of AI. 
From our analysis, we feature three examples that highlight significant AI developments in specific regions: Quantum machine learning in the United States, Intelligent transportation systems in Italy, France, and the Netherlands, and Natural language processing in Korea.
This blog post is the first of a series that highlights how oecd.ai leverages live data to examine Artificial Intelligence (AI) trends.
Report on quantum machine learning spikes interest in the United States
Our first visualization focuses on the three topics that experienced the most significant rise in popularity in a year.  In this example, we dissect the rising interest in "Quantum machine learning" in the United States.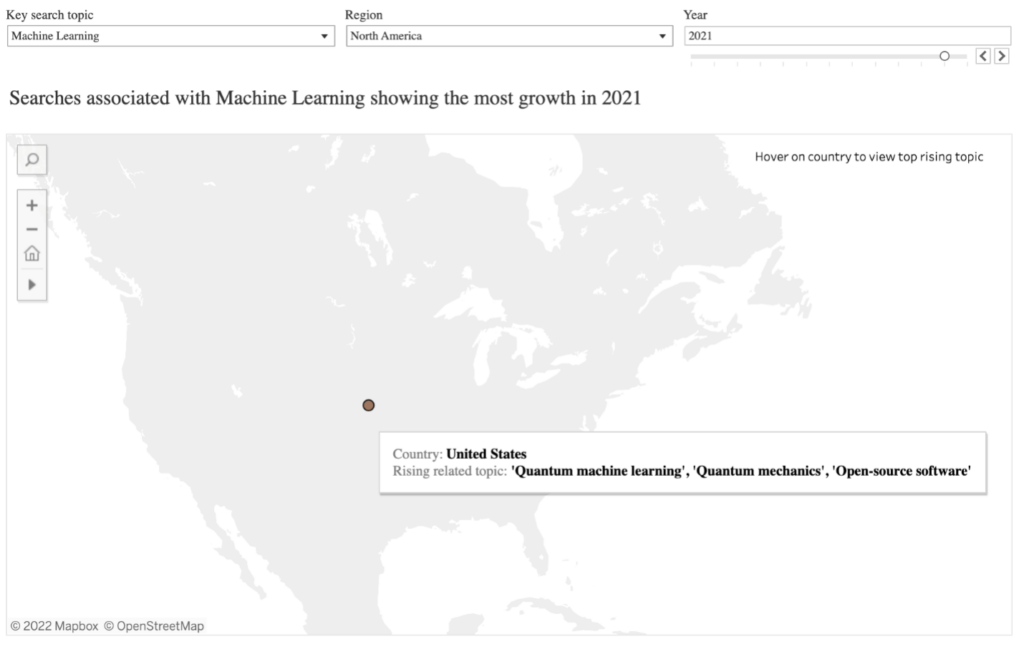 In 2021, the #1 rising topic associated with machine learning in the United States was 'Quantum machine learning', and the second was 'Quantum mechanics'.  This indicates that over the course of the year, these two topics garnered the most rapid growth in interest over any other topic related to Machine learning.

To learn more about this sudden increase, we viewed the associated time series on Google trends from 2010 to 2022.  Looking at the chart, we can see that the term exploded in popularity in March 2021, and peaked in June 2021.
But what caused this sudden rise in interest in Quantum machine learning?  The answer likely comes from an article published by a team of researchers from Austria, the Netherlands, Germany, and the United States titled: 'Experimental quantum speed-up in reinforcement learning agents'.  This article reported an experiment where the application of quantum mechanics accelerated the learning process of reinforcement learning by over 60%. 
The increased public interest in Quantum machine learning research supports the belief that quantum applications will increase the efficiency of data analysis and propel the field of machine learning into the future.  The emergence of this search term in the United States, one of the leaders in quantum computing, could indicate an important development in the field that would reshape the domain of Artificial Intelligence. 
It will be interesting to follow how this develops. As the application of quantum techniques to machine learning appears promising, there are risks regarding transparency, safety, and reliability of quantum methods that will need to be assessed as the field progresses.  In the coming years, it will be important to follow the evolution of the field, and track its developments across countries.
France, the Netherlands, and Italy have a rare shared interest in AI applied to transportation
In addition to pointing out trends in a specific country, this visualization also allows the user to view topics that multiple countries have in common.   
In the same year that the United States listed 'Quantum machine learning' as its #1 topic, we can see a different story emerging in Europe.  Some countries, such as Ireland and the Czech Republic, show a growing interest in common topics related to the labour market, including 'Interview', and 'Salary'.  Others, such as Germany and Lithuania, focus on companies, including 'Amazon Web Services', and 'IBM'. 
But one set of results stands out for being both uncommon and a trend at the same time: three European countries share the same top two rising search topics in 2021.  France, the Netherlands, and Italy all list 'Intelligent transportation system' as their #1 rising topic, and 'Transport network analysis' as their #2 rising topic.  Of all the countries in this analysis, these European countries were the only ones that listed topics related to transportation. So what could have caused all three countries to share such uncommon search terms?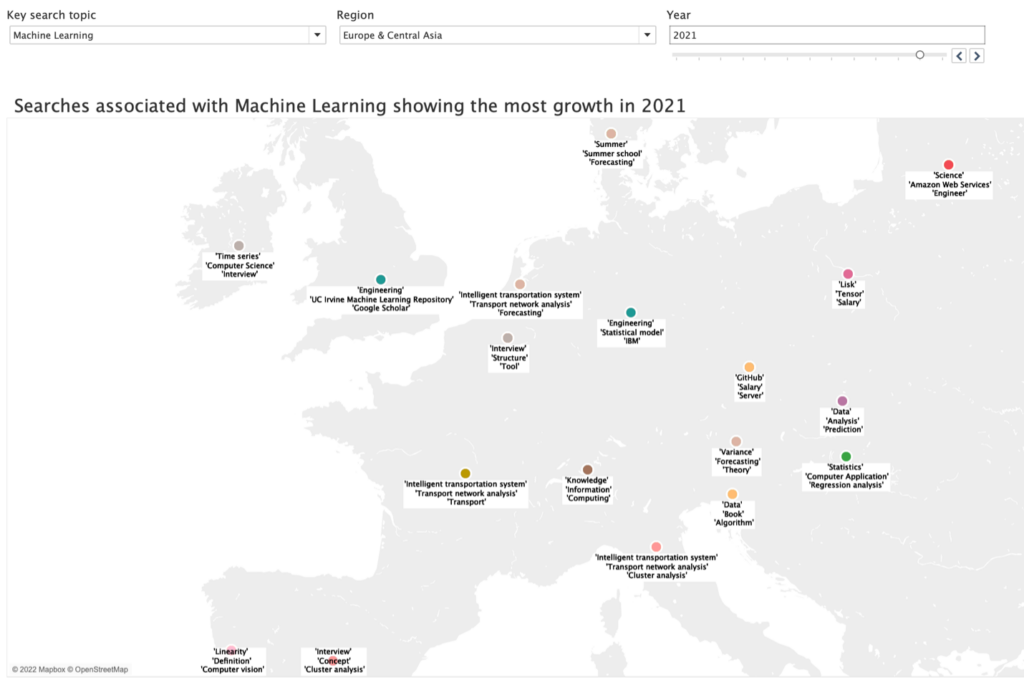 This shared interest is likely due to the focus these countries and the European Union place on the application of machine learning to transportation systems. While several European projects on Intelligent Transportation Systems exist, there are a few key initiatives that most likely contributed to the increased interest in 2021. 
One example is the ELASTIC Project, which received funding from the European Union's Horizon 2020 research and innovation programme.  The initiative's first use case debuted in 2021, enhancing Florence's public tramway and its interaction with private vehicle transportation.  This use case is powered by AI technology and enables the real-time detection of hazardous scenarios using sensors.
Likewise, in 2021 in the Netherlands, a Dutch consortium won an EU grant for the Digital Twin City Dashboard.  The project links several data sources to provide insights into the volume of pedestrian and automobile traffic flows in the inner city.  The project will monitor and document traffic jams on popular bike and car routes, and influence event planning based on traffic predictions.
Beyond European-wide objectives, many countries have specific objectives relating to the use of AI in transportation systems.  For example, France announced a 10-year plan named 'Mobility 3.0' to promote smart mobility solutions in 2018.  Several initiatives were presented in 2021, including the announcement of autonomous bus experiments by the RATP, a state-owned public transportation operator in Paris.
These are just some examples of insights that can be extracted using our live data on AI search trends. Click here to access the visualization and draw your own insights.
Korea's 'isolate' language at the root of its interest in natural language processing
Our third visualization focuses on the most popular topics. We then rank and present the top ten topics to show a trend over time.
To see examples of the inisights our visualizations on the top ten search terms can provide, let's look at the top topics related to Natural language processing (NLP) in Korea.
Korea has been leading an exemplary AI transition since it released a national strategy in December 2019 and launched a Digital New Deal in 2020 to strengthen its digital ecosystem.
Part of Korea's national strategy includes cooperation with the National Institute of the Korean Language to develop a general language model.  Korean is considered an 'isolate' language – one that has no apparent link to other languages – the maturity of Korea's capabilities in Natural language processing is essential for developing language-specific technologies for the Korean language.
By tracing the progression of Korea's top search topics between 2011 and 2022, we can see that it reflects Korea's progress in Natural language.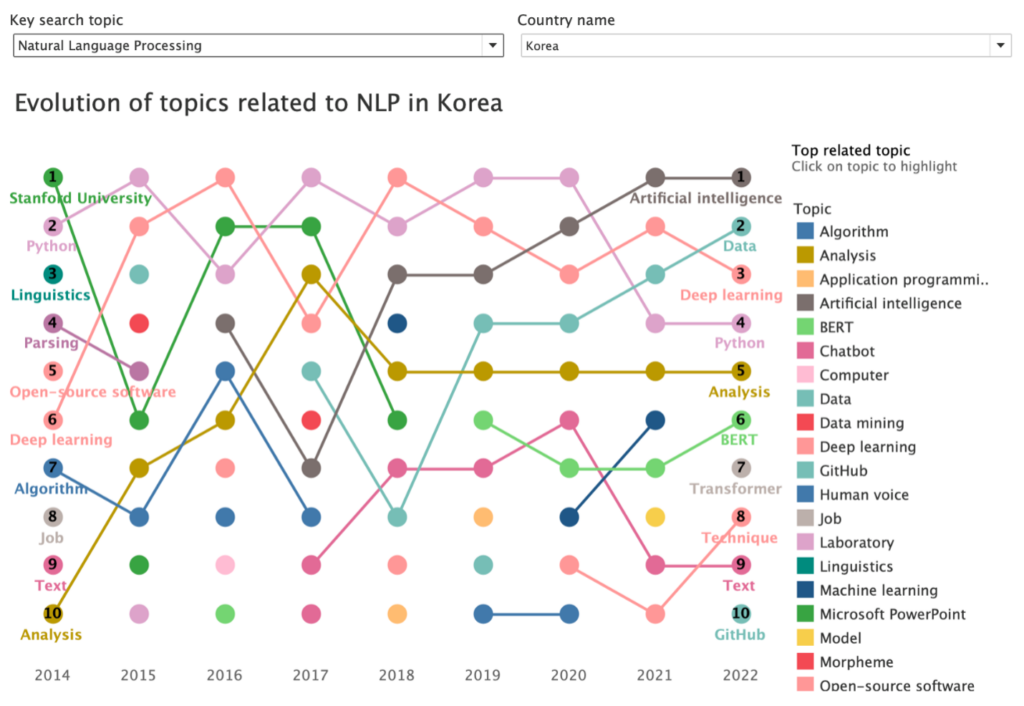 Starting in 2014, we can see the rapid progression of Korea's development in natural language processing.  For example, 'Deep Learning' emerges as a related topic in 2014 in Korea, a term that did not appear in countries such as the United States, Canada, and Germany until 2016. 
In 2022, Korea's #7 top related topic to natural language process was 'Transformer'.  The transformer model is considered state-of-the-art for language technology, and Korea is one of only 5 countries (including China, Germany, the United States, and Spain) that includes this topic listed in their top ten for 2022. Additionally, 'BERT', a popular transformer-based machine learning technique was also listed as Korea's #6 top topic in 2019, the year after it was officially released by Google.  It currently still holds the #6 ranking.
Currently, there are several Korean companies leading in the field of natural language processing.  For example, HyperCLOVA, developed by Korean company Naver Corp., is considered one of the most advanced large language models in the world. 
HyperCLOVA was trained on over 6,500 times more Korean data than OpenAI's GPT-3 model and is equipped with over 204 billion parameters.  In terms of smaller language models developed by Korean companies, KoGPT (Kakao), is considered one of the leading smaller language models in the world and is used to power Korean chatbots and voice assistants. 
As competencies in natural language processing evolve in Korea and around the world, the use of live data will enable policy makers to detect key developments and emerging technologies. Click here to access the visualization and draw your own insights.
Search terms are real-time indicators for current and future developments
As Google is a daily part of over 1.5 billion lives around the world, Google Trends has rapidly become one of the most popular 'non-traditional' data sources used by researchers in finance, medicine, and economics.  Our visualizations and analyses highlight how this rich pool of data can be leveraged to inform policy makers, and provides evidence on how the landscape of AI is evolving in different countries.  As keeping up with rapidly changing trends in AI is difficult, live data sources such as Google Trends have the potential to help policy makers identify and understand existing trends, keep pace with new developments and capture emerging topics of interest in their countries.
---
Inscrivez-vous pour recevoir des alertes de notre blog, le AI Wonk:
---
Human-centred values and fairness
Investing in AI research and development
Google
Innovation
Labour Markets
EU
Europe
European Union
EuropeanUnion
France
Italy
Korea
Netherlands
United States
---