Videos
Watch our videos to stay informed about what is happening at the OECD AI Policy Observatory.
GlobalPolicy.AI: a platform for policy makers to access 8 IGO's work on artificial intelligence
–
GlobalPolicy.AI is a tool for policymakers and the wider public to navigate the international AI governance landscape. It provides access to the necessary tools and information, such as projects, research and reports to promote trustworthy and responsible AI that is aligned with human rights at the global, national and local level.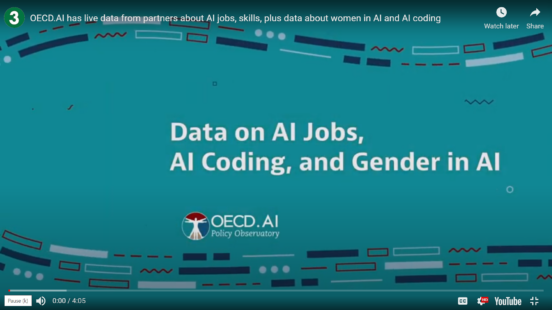 OECD.AI live data about AI jobs and skills and more
–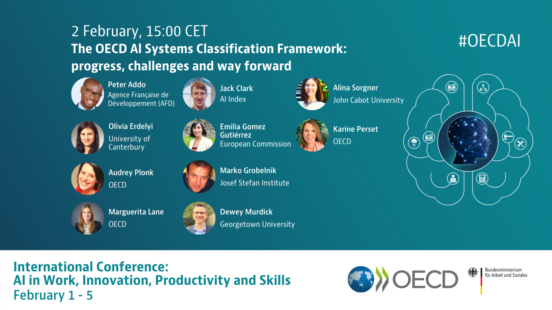 The OECD Al Systems Classification Framework
–
The OECD's Network of Experts on AI developed a user-friendly framework to classify AI systems. It provides a structure for assessing and classifying AI systems according to their impact on public policy following the OECD AI Principles. This session discusses the four dimensions of the draft OECD AI Systems Classification Framework, illustrates the usefulness of the framework using concrete AI systems as examples, and seeks feedback and comments to support finalisation of the framework. Aclassification framework to understand the labour market impact will also be introduced.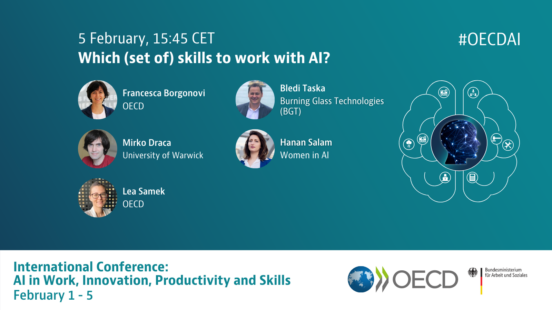 Which (set of) skills to work with AI?
–
This session will discuss emerging evidence on the human capital needed to work with AI and, in particular, on the (set of) skills and competences characterising AI-related jobs, shedding light on the occupations and sectors demanding the cognitive and socio-emotional skills required to work with AI.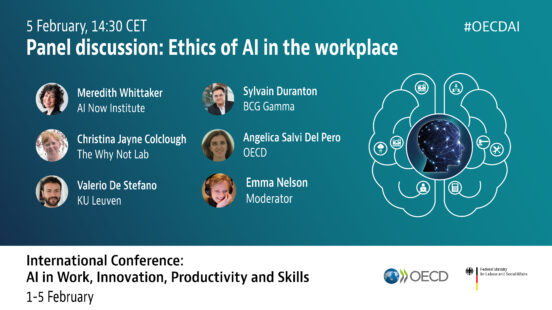 Ethics of AI in the workplace
–
What are the main ethical issues raised by the use of AI in the workplace? What tools can be used to make sure that humans are put first – and human centred values respected – when AI is used in the workplace? What safeguards should be considered to ensure transparency, explainability, safety and accountability? This are some of the questions that panellists will be called to discuss. The panel discussion will be followed by Q&A.
Conversation with Liz Reynolds
–
Stefano Scarpetta, Director for Employment, Labour and Social Affairs at the OECD, will be speaking to Elisabeth Reynolds, Executive Director of the MIT Task Force on the Work of the Future, about her recent report "The Work of the Future: Building Better Jobs in an Age of Intelligent Machines" and how she sees the impact of AI play out in the labour market.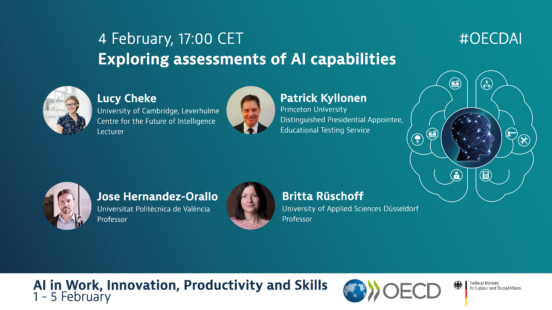 Exploring assessments of AI capabilities​
–
This session will discuss the approach of the OECD's Future of Skills project to assessing AI capabilities and discuss examples of alternative tests available from education, occupational certification, cognitive psychology, and animal cognition.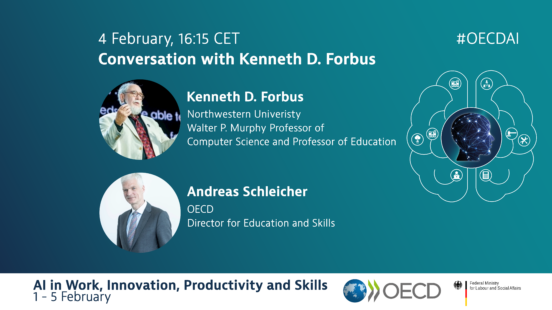 Conversation with Kenneth D. Forbus
–
This keynote by Kenneth D. Forbus, Northwestern University, moderated by OECD Director for Education and Skills, Andreas Schleicher, will present an innovative analysis on the key ways AI capabilities currently fall short of human capabilities and describe the current work in AI that addresses those limitations.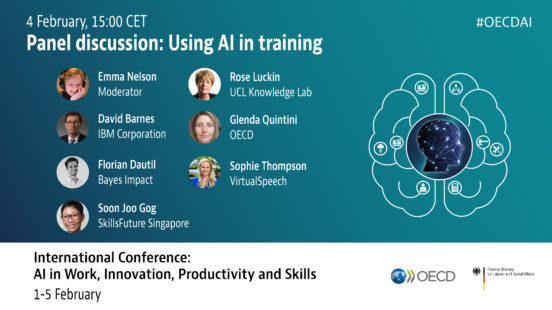 Using AI in training
–
Technologies and tools using AI have the potential to change how people learn by helping to identify training needs, tailor training content, deliver training in innovative ways, and assess learning outcomes. However, the use of AI for training may also suffer from important drawbacks, notably the fact that the cost and complexity of AI technologies could limit access to a selected few. In this session, panellists will discuss how AI can be used for education and training purposes, and explore opportunities and challenges in this context.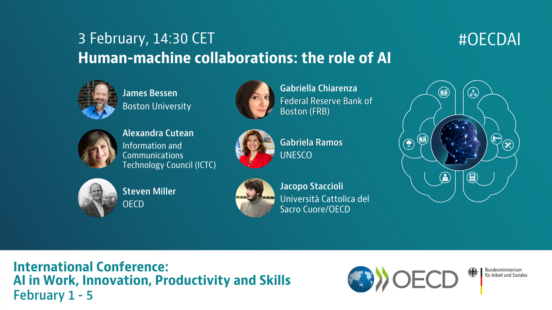 Human-machine collaborations: the role of AI
–
This session will discuss experimental approaches aimed at assessing the possibility for humans and machines to work side by side, and to identify those instances in which automation and AI may make workers redundant. The discussion will be informed by novel evidence on labour-substituting technologies that have been appearing on the market over the last 30 years, with a special focus on those commercialised over the last few years. As these technologies are sold on global markets they can directly or indirectly (through global value chains and input substitution) lead to some tasks (and possible occupations) becoming redundant. The discussion will also focus on how humans and machines can work side by side, and how technologies may become labour augmenting.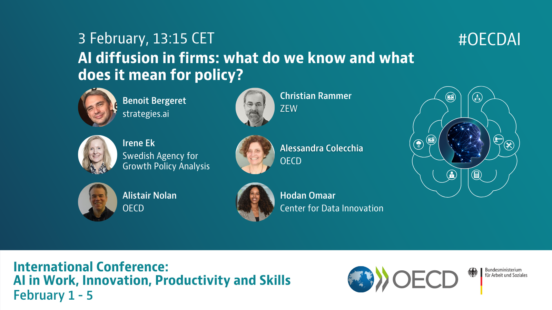 AI diffusion in firms: what do we know and what does it mean for policy?​
–
New and emerging applications of AI systems are proliferating, yet development, diffusion and use of AI technologies are still at a relatively early level of maturity across many countries and firms. This session aims to explore the current understanding and knowledge gaps on the dynamics and drivers of AI diffusion, the factors affecting diffusion and the type of AI used by firms. This will inform the development and implementation of a survey of AI use by business being carried out under the AI-WIPS project.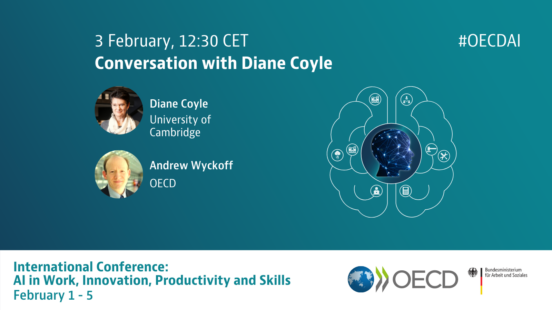 Conversation with Diane Coyle
–
In this session, the University of Cambridge's Bennett Professor of Public Policy, Diane Coyle, will speak with OECD Director of Science, Technology and Innovation, Andrew Wyckoff, about her views on AI and productivity, the technology's impacts on digital markets and competition, and the potential implications of AI's diffusion for achieving social objectives.