Report: The effects of AI on the working lives of women
The discussion will be based on the new joint report from UNESCO, OECD and IDB "The Effects of AI on the Working Lives of Women".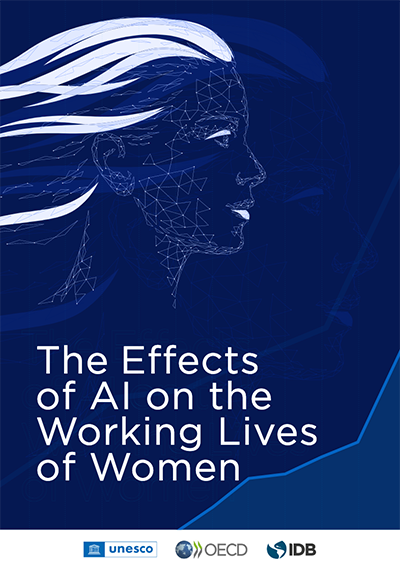 This collaboration between UNESCO, the Inter-American Development Bank (IDB) and the Organisation for Economic Co-operation and  Development (OECD) examines the effects of the use of AI on the working lives of women.
By closely following the major stages of the workforce lifecycle  –  from job requirements,  to hiring to career progression and up-skilling within the workplace – this joint report is a thorough introduction to issues related to gender and AI. It can serve as a comprehensive starting point to important conversations about women's equality in the future of work.
What effect does AI have on the working lives of women?
Globally, studies show that women in the labour force are paid less, hold fewer senior positions and participate less in science, technology, engineering and mathematics (STEM) fields. A 2019 UNESCO report found that women represent only 29% of science R&D positions globally and are already 25% less likely than men to know how to leverage digital technology for basic uses.  
In celebration of International Women's Day 2022, UNESCO-IDB-OECD released this report "The effects of Artificial Intelligence on the working lives of women". The report looks at the challenges that AI presents for the working lives of women and addresses three overarching topics:  
The changing skills requirements in the labour market; 
The effects of AI on women entering the labour force; and,   
The impacts of AI on women's work environment and career progression. 
BLOG POST: AI must not make women's working lives worse