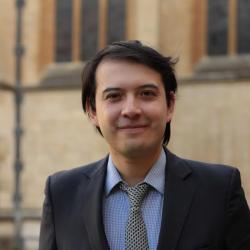 Armando Guio-Espanol
CAF Consultant
-

Presidency of the Republic of Colombia
Armando Guio Espanol is a lawyer, and graduated from Universidad de los Andes (Bogota, Colombia) in 2014 with an Honours Degree. He holds a Masters of Law from Harvard Law School (LL.M. '16) and a Master of Public Policy from Oxford University (MPP '18).
Armando has advised public and private entities around the world on data protection, AI policy and innovation matters. He lead the design and implementation of Colombia's AI Strategy and continues to advise international organizations on these topics in Latin-America. Currently, he serves as a consultant for the Development Bank of Latin-America.
Armando is interested in emerging technologies and the ethical and regulatory challenges that come with them. He thinks that the regulation of these innovations will be one of the most important discussions of our generation and would be essential for the future of developing countries.
Disclaimer :The opinions expressed and arguments employed herein are solely those of the authors and do not necessarily reflect the official views of the OECD or its member countries. The Organisation cannot be held responsible for possible violations of copyright resulting from the posting of any written material on this website/blog.