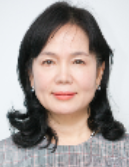 Kyunghee Song
Director General
-

Artificial Intelligence Policy Bureau, Ministry of Science and ICT, Republic of Korea
Kyunghee Song is Director General of Artificial Intelligence Policy Bureau of Ministry of Science and ICT (MSIT). She worked as Director General of Software Policy Bureau, MSIT until she moved to her current position in Jan 2021. She worked in the President Moon working in the Presidential Secretary Office for Industrial Policy in 2017 to 2018.
She began her career as a government official at the Ministry of Information and Communication in 1997 after she passed the national exam in 1996. She has various careers in ICT, including the Internet Policy, Radio-Telecommunications Policy, and International Cooperation Bureaus.
She also worked as a secondee at UPU in 1999 and completed her master's degree at Kennedy School in 2009. She majored in English Literature in her undergraduate, and she has Ph.D degree in business administration at Yonsei University.
Kyunghee Song's publications
Disclaimer: The opinions expressed and arguments employed herein are solely those of the authors and do not necessarily reflect the official views of the OECD or its member countries. The Organisation cannot be held responsible for possible violations of copyright resulting from the posting of any written material on this website/blog.