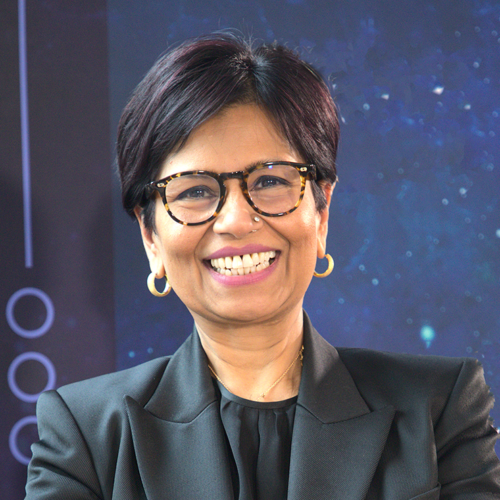 Tanuja Randery
Managing Director
-

Amazon Web Services, Europe, Middle East, and Africa (EMEA)
Tanuja is Managing Director of Amazon Web Services (AWS) EMEA, responsible for setting EMEA strategy and guiding the company's growth across the region. She leads multi-country, cross-functional teams who work closely with customers, from startups through to the world's largest enterprises. These teams support digital transformation, providing insight on the technical and business aspects of cloud computing. The AWS EMEA team works alongside partners, including independent software vendors, advisory partners and system integrators, to help customers innovate.
Tanuja has more than 25 years of strategic, commercial and operational experience. She joined AWS in 2021 from management consulting firm McKinsey & Company, where, as a Partner, she was responsible for leading enterprise transformation projects in the technology and industrial sectors. Prior to this she served as CEO, UK & Ireland for Schneider Electric, the global energy management firm. Tanuja spent 10 years with Colt as CEO of UKI and Benelux, and was head of strategy for EMC in North America in her earlier career.
Tanuja serves as non-executive director on the board of BusinessLDN and was previously a trustee for Save the Children UK. She is committed to diversity projects and founded the PowerWomen Network—a cross-industry network for senior women business leaders. She has been recognised for her work in inclusion and diversity as a top-50 Champions for Women in Business by the Financial Times' HERoes in 2017 and 2018. More recently, she was ranked number 6 on the UK Tech50 2022 list of most influential people in IT and was recognised in the Yahoo Finance
2022 Heroes Women Role Model Lists within the category "Top 100 Women Executives List"
. Tanuja also hosts a podcast, PowerWomen Speak, on what it takes for women to be successful in business.
Born and educated in India, with a Master's degree from Boston University, Tanuja holds US and UK citizenships and has lived in London for the past 20 years.
Tanuja Randery's publications

Time to beat the diversity gap in artificial intelligence
Tech can take women anywhere, no matter their interests or background.
March 8, 2023 —
7 min read
Disclaimer: The opinions expressed and arguments employed herein are solely those of the authors and do not necessarily reflect the official views of the OECD or its member countries. The Organisation cannot be held responsible for possible violations of copyright resulting from the posting of any written material on this website/blog.