Business
Time to beat the diversity gap in artificial intelligence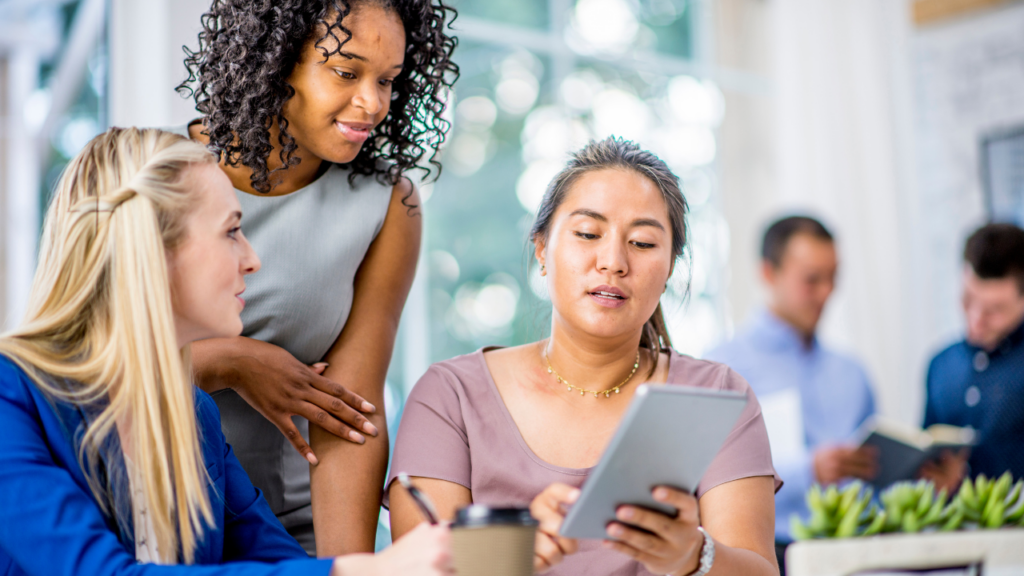 Artificial intelligence (AI) is one of the most transformational technologies of our generation, tackling some of humanity's most challenging problems. It can predict droughts before they occur, help prevent fraud, and ensure disaster relief is delivered quickly and efficiently. It has become an essential tool in health diagnosis and disease prevention while identifying and addressing challenges related to climate change and many other tasks. In the workplace, AI can augment human performance and maximise productivity.
Women play a central role in artificial intelligence development and harnessing it for social impact: AI policy researcher Adriana Bora has shown the potential for Machine Learning (ML) to help combat modern slavery. Anu Meena is using AI to empower farmers and reduce food waste with her start-up Agrowave, an AgriTech startup in India. Alice Zhang is changing the future of the healthcare industry by using AI to develop new drugs to address diseases like Parkinson's and Alzheimer's. In South Africa, Benji Coetzee uses AI in her start-up emptytrips.com to improve logistics and transportation.
These women and many others are making considerable strides that benefit everyone through AI applications, but there are not enough of us. At least not yet. Women are too often underrepresented, invisible, unheard, and unfunded.  Companies face a common barrier in finding AI talent, yet the talent pool of women remains largely untapped.
A 2020 World Economic Forum report found that women make up only 26 % of data and AI positions in the workforce.  Today, women are 13 times less likely to file for a technology patent than men. The OECD estimates that women obtain just 7% of ICT patents in G20 countries, and women founded only 10% of technology start-up companies seeking venture capital. 
Getting more women into tech
I grew up in India, where I earned an economics degree at a time when women didn't necessarily go into Science, Technology, Engineering and Maths (STEM). But my father, a tech entrepreneur, strongly influenced and encouraged me. Early on, I decided I wanted to lead a global business someday, and after my BA in Economics, I went to the USA for my MBA. At a leading consulting firm, I was lucky to work with some of the early 2000s' most prominent players in tech. I became quite the tech enthusiast, seeing the power of innovation and the opportunities it created to improve lives, work and play.
Now, as managing director of AWS for Europe, the Middle East, and Africa, I see first-hand the role diversity plays in helping harness AI for maximum positive impact. To expand the impact of AI, its design, development, and deployment must be inclusive. When defining a problem for AI to solve, designing solutions, selecting and preparing data inputs and constructing and training the algorithms, an AI team should be as diverse as the populations it addresses.  Many more women must be included in AI and machine learning because we bring our perspectives to the tech industry and may be uniquely positioned to identify certain fairness concerns in AI/ML solutions.
I am committed to ensuring our digital world is more inclusive and that more female leaders are in the driver's seat when developing AI technology.  To do this, I listen to women – inside our companies and partners, customers, and thought leaders. This helps to understand what needs to be done to ensure AI has more women at the forefront. Here is some of what I have learned so far.

To hire, train, and retain women in AI, companies must invest in a culture of diversity and inclusion
Diverse teams drive innovation for customers. This has been proven in many studies and experiments. The Boston Consulting Group found that companies with above-average diversity produced more revenue from innovation (45% of the total) than those with below-average diversity (26%). The Credit Suisse Research Institute also found that companies with one or more women board members had a higher average return on investment and better average growth than companies with male-only boards. 
Nurturing diversity is not only an economic imperative, it is also the right thing to do for employees. When employees know their voices and opinions are heard, and they see themselves at every level of an organisation, they feel a greater sense of belonging.  And it's not just women that are underrepresented. According to a report from the non-profit Diversity VC, women, Black and LGBTQIA+ business founders are among groups who receive less than 2% of all available venture funding.
AWS cultivates a culture of inclusion and hiring, retaining and advancing more underrepresented talent, including women. We also amplify the voices and visibility of women role models and mentors.  Our global mentorship programme creates more than 6,000 opportunities every year to recruit and help more women gain senior and technology-focused roles.
The right AI skills and access to educational opportunities for careers in technology are fundamental
The next generation of technical leaders can be built by providing communities with broader access to STEM education, including women interested in technical careers. Aspiring tech students are often unaware of the full breadth of cloud jobs and can be pushed into narrow roles in coding, video game production and software development.  A common misconception is that this is a problem specific to the developing world or regions where gender equality is a challenge. But this is not the case. Studies have shown that some countries with lower levels of gender equality have the highest proportion of women completing advanced technology degrees.
So far, AWS has invested $50 million to support creating STEM-focused programmes at AWS and partner organisations, with initiatives like She Builds CloudUp. Both inside and outside of Amazon and AWS, this programme focuses on helping women build cloud computing knowledge while providing mentors and community. Our AWS re/Start programme also provides free, cohort-based workforce development training to underemployed and underrepresented communities. Women are a focus for many of the programmes, including Coding Black Females, Momentum, Inno-Sci, and Generation.
To challenge long-standing gender stereotypes as early as possible, our AWS GetIT programme encourages students aged 12-14, especially girls, to consider future careers in  STEM.  Our InCommunities initiative has launched innovative skills-building programmes with an impact in regions around the world where people work, live, and raise families. 
Women-led start-ups need training to start and scale AI business
 A March 2022 report by the OECD, UNESCO, and IADB highlights that in 2019, women represented only 18% of C-Suite leaders among top global AI start-ups.  At this pace, women will not be involved in half of the inventions patented by the five most prominent IP offices until 2080!
If we want to build an AI ecosystem as diverse as the societies we aspire to create, it is urgent to empower female-founded start-ups with AI/ML technologies to help them create differentiation and additional technical depth in their products, building their technical skills and supporting their fundraising and market expansion.  In 2021, we launched the AWS AIm High Programme to help female founders. But we need to do more, and hope to get some help from new partners.
Public conversations between industry, policy makers, the AI research community, and the start-up ecosystem are essential
Businesses like AWS can strive for diversity, but policy makers must do their part to encourage female entrepreneurship, participation and engagement in all stages of an AI system life cycle by offering and promoting incentives.  Policies should encourage gender equality in the AI ecosystem across academia, the private sector, and civil society.   
To address the gap between policies and practices for inclusive AI, we must multiply the platforms available to discuss emerging issues in gender equality and AI policy and amplify the voices of women leaders in the start-up AI ecosystem.  The engagement from industry and policy makers at our conversations at occasions such as the EU AI Week on Women in AI is an example of why these dialogues are so meaningful.
Make access to the power of AI/ML through cloud technology
Gender equality in AI is also about democratising access to AI/ML services. By putting machine learning technology in the hands of developers everywhere, we enable innovators to build life-changing solutions that improve people's lives and protect our planet.  Start-up businesses like Hugging Face, the AI community that develops and deploys AI models based on open source machine learning, are using technology to do just this.
Success and scale bring broad responsibility
Businesses and governments must improve their environments daily for the sake of local communities, the planet, and future generations. Leaders should always leave things in better shape than they found them. Resources and tools developed for the responsible use of AI and machine learning should perpetuate this ideal. 
AI should be human-centric and respect the rule of law, human rights, and the values of equity, privacy, and fairness. AI development must focus on products that are accurate and fair, and developers should engage in research that further advances the detection and mitigation of bias, enhances privacy, and shows how models reach their predictions.
Diversity and inclusion are more than gender equity
The ability to innovate on behalf of customers relies on the perspectives and knowledge of people from all backgrounds.  Building a welcoming and inclusive organisational culture is integral to people doing their best is essential to a company's achievements.
Inclusion, diversity, and equity in AI also cover age, origins, sexual orientation, culture, education, physical and psychological ability, neuro-diversity, religion and professional and life experience. AWS is committed to diversity and actively recruits people from diverse backgrounds to build a supportive and inclusive workplace where our builders bring varying backgrounds, ideas, and points of view to benefit our customers.
As luck would have it, I was exposed to tech from a very young age. My father's entrepreneurial example showed me that nothing was impossible through tech. But you don't have to be an engineer to build a successful tech career; tech companies need strong candidates across all functions. We need to inspire the next generation through dedicated training and skilling programmes. Governments and industries must do more to close the gender gap in employment.
Tech can take women anywhere, no matter their interests or background. My advice to this generation of women? Join the digital transformation revolution – we need a tech sector as diverse and inclusive as the societies we aspire to create – and that means having everyone at the table. Take the leap with us!
---
Sign up for OECD artificial intelligence newsletter
---
Building human capacity and preparing for labour market transformation
Human-centred values and fairness
Inclusive growth, sustainable development and well-being
Employment
Labour Markets
Skills
---