Government
Blog series: How countries are empowering citizens for AI and the future of work
A blog and video series on the AI Wonk that looks at the national AI strategies of five countries: Canada, Singapore, Germany, Egypt and the United Kingdom
Key insights
See the full series:
Artificial intelligence (AI) is expected to generate trillions of dollars in global revenues over the coming decade while changing the way people go about their daily lives. A key opportunity, but also challenge, concerns the impact of AI on the future of work. AI holds a promise to relieve us from menial or hazardous tasks and allow people to focus on more creative or interpersonal activities. At the same time, many are worried about job displacement, the need to acquire new skills and human-machine interactions at the workplace. No matter the size of their economies, governments increasingly recognise the need to plan for a safe, fair and inclusive AI transformation in the world of work, and in particular, to support people and equip them with the skills necessary to adapt and thrive.
Part of the OECD's mission of better policies for better lives resides in the practice of sharing information and experiences among countries. In the spirit of peer learning, the AI Wonk presents a new video series, where policymakers from five countries – Egypt, Singapore (both recent adherents to the OECD AI Principles), Canada, Germany and the United Kingdom – showcase how they are preparing citizens for the future of work and AI. While their approaches often differ, they are all working to make AI work for their citizens and economies.
These national experiences shed light on how governments are implementing the OECD AI Principle (2.4) that promotes "empowering people with the skills for AI and supporting workers for a fair transition". They also help to inform the German-supported OECD programme on AI in Work, Innovation, Productivity and Skills (AI-WIPS), which aims to help ensure that the adoption of AI in the world of work is effective, beneficial, people-centred and accepted by the population at large.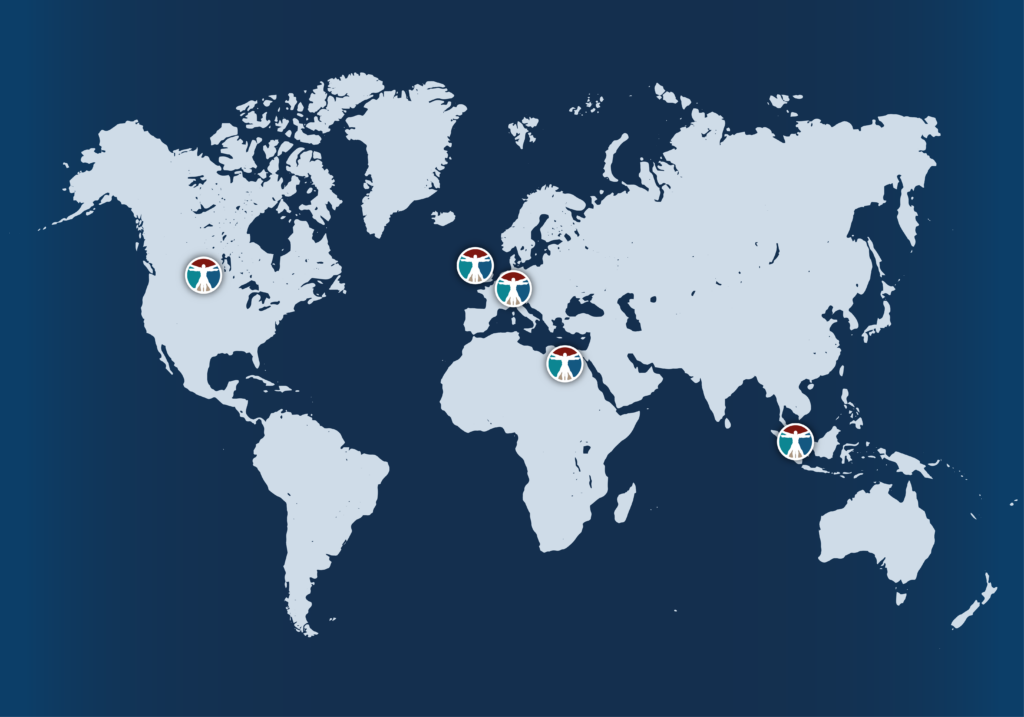 Key insights into national AI strategies
Governments have an important role to play in empowering people with the skills required to transition to AI-enhanced workplaces, and many are already deploying and funding strategies and policies to rise to the challenge. For example, countries are strengthening formal education programmes on AI-related fields and on STEM (Science, Technology, Engineering and Mathematics). Vocational training and lifelong learning on AI-related programmes further support workers in keeping up with technological changes. Governments are also developing approaches to attract top AI talent from around the world, for example through programmes offering work visas to AI experts.
But the impact of a top-down government approach alone can be limited. Countries often turn to partnerships between public and private research and academic institutions to ensure that the training they provide matches market needs.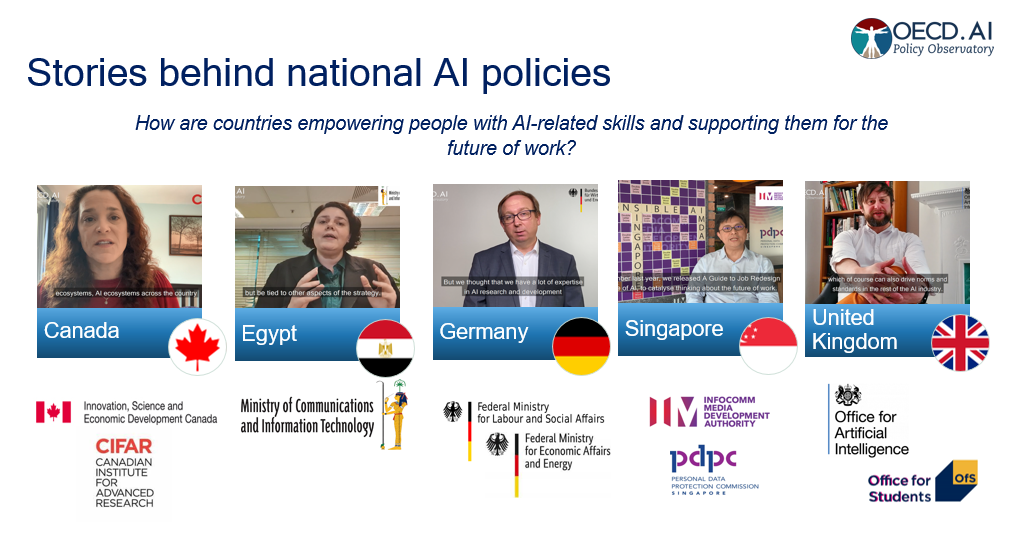 What to expect
The AI Wonk will publish blog posts and videos on one country every week until the beginning of June. Here's the schedule:
5 May 2021 – Canada 🇨🇦
12 May 2021 – Singapore 🇸🇬
19 May 2021 – Germany 🇩🇪
26 May 2021 – Egypt 🇪🇬
2 June 2021 – United Kingdom 🇬🇧
From Canada, Elissa Strome of the Canadian Institute for Advanced Research (CIFAR) and Francis Bilodeau of Innovation, Science and Economic Development Canada (ISED) outline the Pan-Canadian AI Strategy and how it focuses on investing in and promoting AI R&D through three national AI research centres. They further describe Canada's ongoing effort to attract and maintain domestic and foreign AI talent.
Yeong Zee Kin (Personal Data Protection Commission and Infocomm Media Development Authority) returns to the AI Wonk to give us the unique policy perspective of Singapore, the ultra-modern city-state. Yeong Zee Kin sheds light on Singapore's initiatives to empower citizens for the future of work, particularly through guidelines on job redesign and programmes that help both ICT and non-ICT professionals acquire AI skills and knowledge.
From Germany, Andreas Hartl from the Federal Ministry for Economic Affairs and Energy (BMWi) and Wiebke Dorfs from the Federal Ministry of Labour and Social Affairs (BMAS) discuss how their government is preparing citizens for the future of work while developing indicators to measure the impact of AI on work and society.
From Egypt, Golestan 'Sally' Radwan from the Egyptian Ministry of Communications and Information Technology outlines how her country is focusing on AI from a developing country perspective. Egypt has prioritised both the development of AI-related technical skills, as well as non-technical capabilities that complement AI-related expertise, such as creativity, problem-solving and analytical skills, among others.
From the United Kingdom, Stefan Janusz from the Office for Artificial Intelligence and Helen Embleton of the Office for Students highlight their offices' collaborative work to fund "AI postgraduate conversion courses" that look to increase the diversity of workers in AI and data science.
National AI strategies and the OECD AI Principles
These policy examples demonstrate how interrelated the OECD AI Principles are for policy makers who are seeking to promote trustworthy AI: for example, policies that build human capacity and prepare citizens for labour market transformation often touch upon the principles of inclusive growth, investing in AI R&D as well as building human capacity. It is also no surprise that policies in different domains often have common themes, such as greater access, encouraging inclusion and diversity in AI, and creating opportunities for citizens and businesses alike.
This series is part of ongoing initiative to showcase national AI policies that help to implement the OECD AI Principles.
Visit the OECD's AI-WIPS programme for more on AI skills and labour markets.
Further reading: The impact of AI on the labour market: is this time different? (Marguerita Lane, OECD)
---
Sign up for OECD artificial intelligence newsletter
---
Building human capacity and preparing for labour market transformation
Inclusive growth, sustainable development and well-being
Investing in AI research and development
Shaping an enabling policy environment for AI
Digital economy
Economy
Education
Employment
Industry & entrepreneurship
Innovation
futures
National AI Strategy
Canada
Egypt
Germany
Singapore
United Kingdom
---