Government
Egypt's AI strategy is more about development than AI
As a developing country, one of the central questions facing us in Egypt when we started grappling with the issue of an AI strategy is: "Do we even need an AI strategy? Should our stance be more protectionist? Do we have to embrace every technology handed to us by Big Tech and not question it? How is this going to affect our economy and people's livelihoods, especially with many industries in Egypt still being relatively labour-intensive?"
We finally came to the conclusion that embracing AI wasn't optional, and rather than waiting for it to be imposed on us, we wanted to be part of the conversation from the beginning. Everyone kept repeating, "We want the technology to work for us, not us for it". From this directive emerged the two main objectives of Egypt's national AI strategy:
To exploit AI technologies to serve Egypt's development goals, thereby benefitting every Egyptian.
Play a role in fostering regional and international cooperation on AI to ensure fairness and equality in all AI-related fora.
Based on these objectives, our mission statement is to effectively "create an AI industry in Egypt", with everything an industry requires: people, technology, policy, infrastructure, and so on. We have created a framework to articulate the four pillars and four enablers of the strategy. The pillars are AI for government, AI for development, capacity building and international relations. These pillars are underpinned by four enablers: governance, data, ecosystem and infrastructure.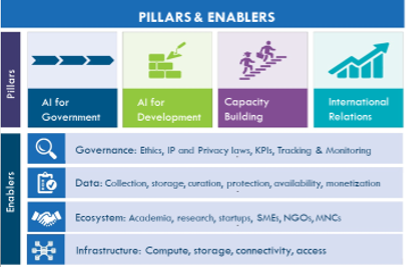 My main focus here will be the capacity building pillar as it is the cornerstone of our strategy and essential to achieving any other goals. This is particularly true for AI and the impacts it will have on labour markets.
Enhance and grow the labour market, in AI and elsewhere
Egypt's approach to AI capacity-building rests on three main principles:
AI should enhance human labour, not replace it. This sets our priority on improving processes and outcomes, not cutting jobs.
The best way to counter any threats to the labour market is to expand the labour market. This means generating new opportunities and equipping all generations, not just the young, with the skills they need.
It is important to understand that some people cannot be upskilled or reskilled, and it's vital not to leave them behind.
The first principle requires conducting a thorough impact assessment for each AI project. This includes a needs assessment that focuses on whether or not AI is the best solution to the problem at hand. It also includes an assessment of the expected social and economic impact of each new AI system. This can be in terms of negative outcomes such as job losses, diverted revenues, changing business models, or indeed positive outcomes such as opening up new markets or generating new roles.
Egypt is currently producing the "Egyptian Charter on Responsible AI", which is due to be published in spring 2021. Largely based on the OECD AI Principles, it will include assessment guidelines, technical guidelines and best practices for any entity looking to implement an AI system.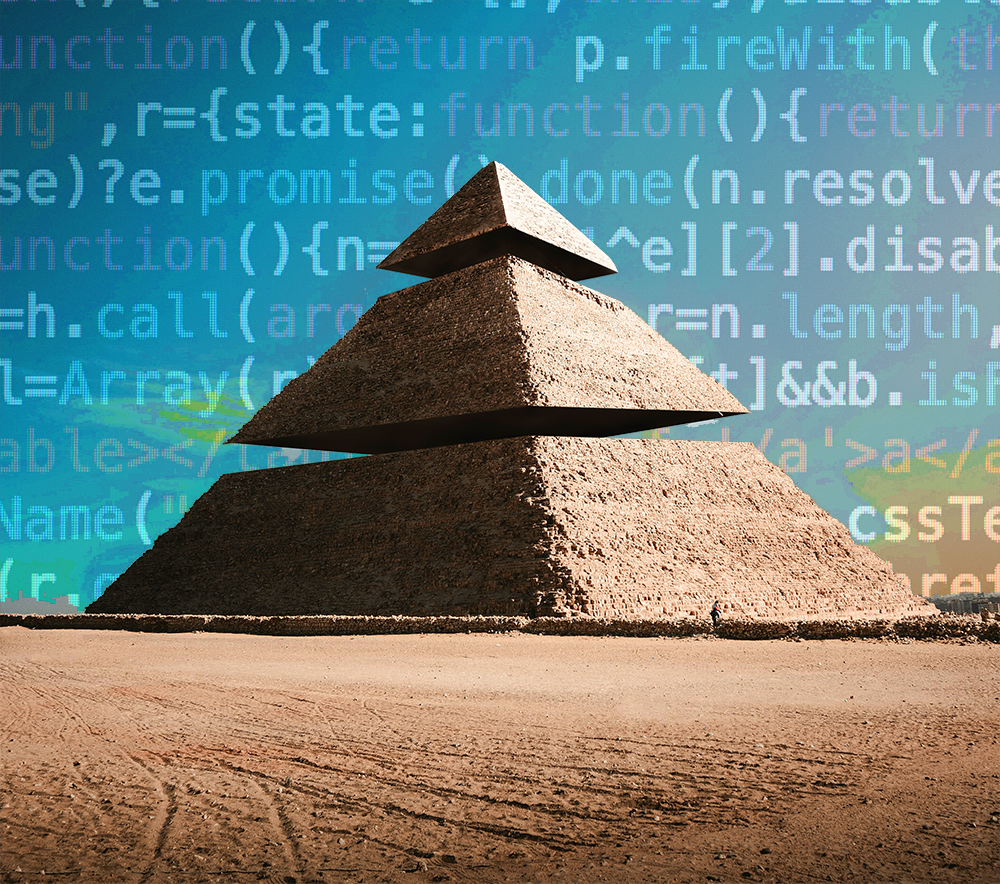 Shifting labour forces that cannot adapt to AI
The third principle, which focuses on the difficulties of equipping certain people with new skills, is the most complex to implement. It requires an interdisciplinary approach and strong co-operation between the government and the private sector. It is not just about finding tactical solutions but long-term strategies and policies. Traditional solutions, such as providing social aid and subsidies can still be employed in certain cases, and AI can play a role in identifying the right target groups and levels of subsidy required.
More sustainable solutions, however, need to focus on ensuring that organisations are well equipped to handle those transitions and to have built-in flexibility to help their at-risk employees. So far, we have had one successful experience with a large telecom operator. Instead of laying off an entire department full of employees after their jobs were replaced by AI, the company re-designed their jobs and even created an entirely new function within the company where their skills would be useful. This resulted in avoiding layoffs and boosting revenues.
We realise that this case is exceptional. However, thinking outside the box and experimenting with creative ideas and solutions could be the only way out of this crisis. This makes it vital for Egypt to engage in international conversations about new labour market paradigms, the future of work and redesigning economic models. In return, we can provide the perspective of a developing, Arab and African country. Egypt has proposed two working groups with the African Union and Arab League, to unify regional voices and contribute to these international discussions with shared priorities a common stance that articulate our countries' positions and needs. We believe that more work needs to be done on international cooperation, as laid out in the OECD AI Principle 2.5, and that international organizations need to move beyond suggesting new policy approaches to helping governments implement those policies on the ground. Any efforts to encourage international and regional cooperation to facilitate this would be welcome.
Capacity building framework
To roughly outline the way we think about AI education for both technical and non-technical persons in Egypt, we have made use of something very Egyptian: pyramids. One represents technical roles, the other is for non-technical roles. At the summit of each pyramid, the number of workers required becomes smaller and the level of specialisation, especially for technical skills, becomes higher. This often corresponds to a higher market value, but not always.  In the absence of reliable market data and forecasts, this helped us to estimate what we would need for each programme. The audiences can be roughly classified into those that require general awareness, formal education, or professional training.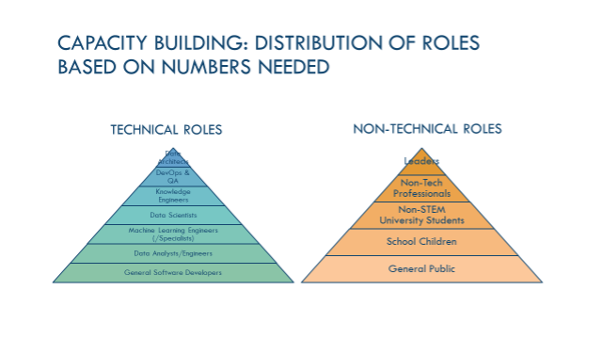 Raising general awareness around AI
Raising public awareness of AI, its uses, benefits, risks and limitations, has been recognised as a gap not just in Egypt, but in most parts of the world. The use of the term "intelligence" associated with what are essentially Machine Learning applications has created a lot of confusion, not to mention the public uncertainty and fear created by science fiction books and films. To benefit from the gains that AI promises, we need to educate the general public and create a base of educated, knowledgeable users. This is what will ultimately produce the technical professionals and highly skilled specialists that Egypt needs to implement and boost its ambitious AI plans.
Programmes and content must be accessible at every level of society, even to those with limited or no formal education. Different levels of courses and training programmes must then be designed to help recipients "climb up" the rungs of the capacity building pyramid shown above. For example, to meet Egyptians' preference for short videos over lengthy texts and interactive, instructor-led training, we are launching a series of courses with local and foreign partners to create original local content.
Formal education and training
It is essential to start exposing students to the basics of AI during their secondary, and eventually even primary) school education. This will alleviate pressure at the university level and broaden the base from which future AI experts at all levels can emerge.
We are rolling out a programme in selected high schools to get students excited about AI and implementing small projects on GPU boards using small kits. The pilot programme includes 10 schools around the country and will be phased in to cover all of Egypt over the next 3 years. As an essential prerequisite, we are designing a teacher enablement programme to ensure teachers are equipped with the right tools and knowledge to teach but also to guide and mentor AI projects. The programme will culminate in a country-wide competition that includes an opportunity to pitch the winning projects to government officials and interested companies.
The program will also be launched at the "Innovation Hubs" now emerging all over the country in 8 locations, with 7 more planned this year. They are located on university campuses and aim to build a bridge between the university and its local community by engaging local youth with research students and staff in creative projects that benefit the local environment. Examples of the innovation hubs in Minia and Qena in Upper Egypt are shown below: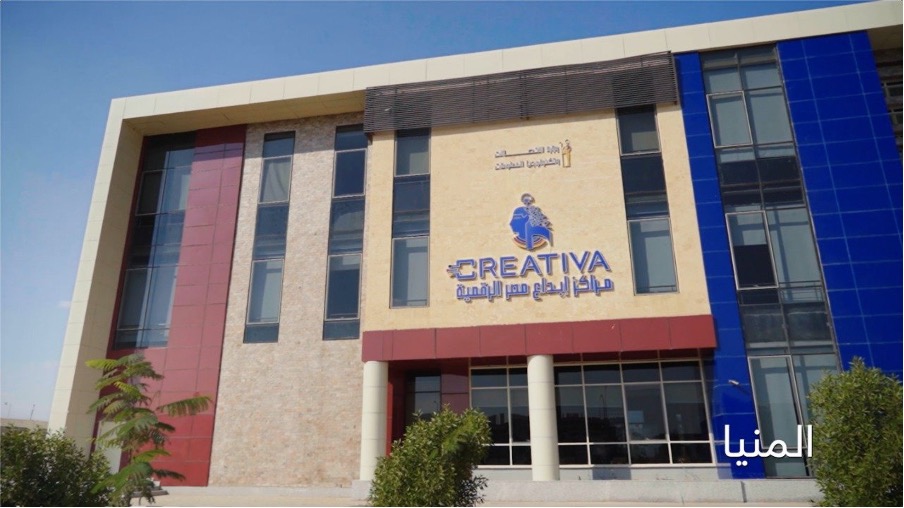 University programmes are classified into technical and non-technical majors, according to the framework above. "Technical" majors teach AI as a core subject or even as a full degree, as is the case with the new "Faculties of AI" in eight public and private universities, in addition to AI courses already taught at faculties of Engineering and Computer Science. To complement the theoretical knowledge these programs provide, we have created a portfolio of postgraduate courses and degree programs, including a 9–month diploma with French Grand Ecole "EPITA", and a professional master's degree in partnership with the University of Ottawa. Non-technical students have the opportunity to study modules during or after university that introduce them to the uses of AI and Data Science in their respective fields, thereby creating the next generation of "domain experts".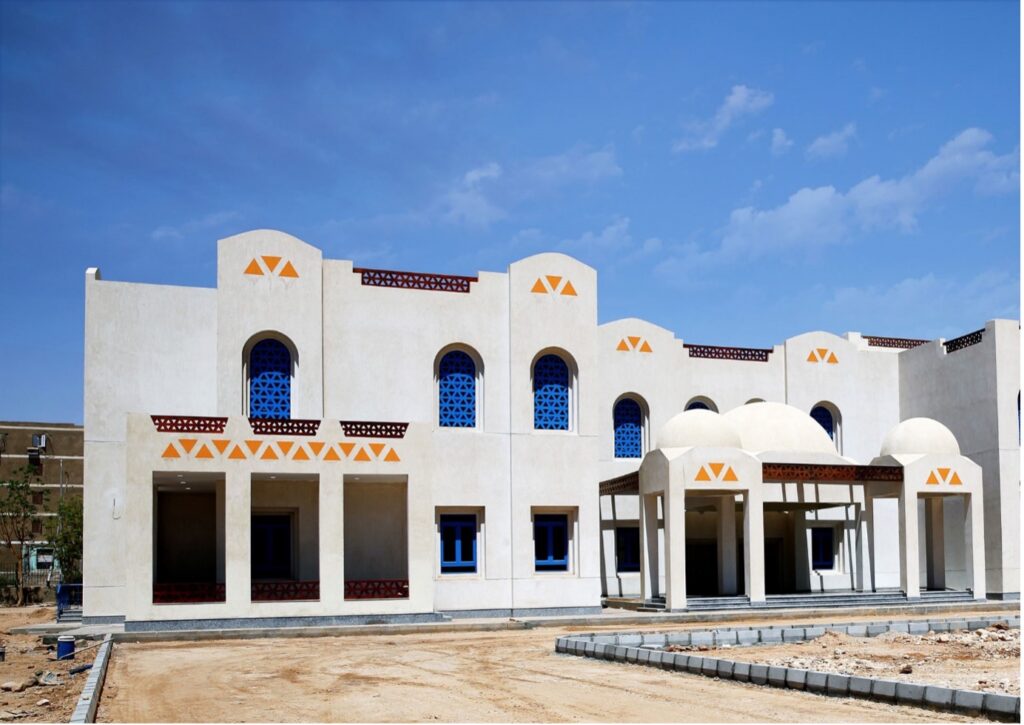 Professional education and Public-Private Partnerships
For professionals already in the market, at any level below leadership, the same classification used above for university students also applies. We have already rolled out and continue to add more programmes co-developed with the private sector to focus on upskilling existing professionals in areas like Natural Language Processing, Computer Vision, or Machine Learning Ops, to name a few. In addition, hackathons have proven a very interesting and relatively easy-to-organize way to engage students in AI. We are in the middle of a hackathon series focusing on addressing problems such as reducing carbon emissions, solutions for smart cities, smart agriculture, healthcare, etc.
Bringing it all together
Capacity building programmes cannot exist in a vacuum. They need to be a part of a holistic framework to realise goals. This is why we have created career development paths for the main target groups: technical and non-technical students, professionals and leaders, to map out their journey from being initially introduced to AI, to becoming effective and valuable members of Egypt's AI ecosystem.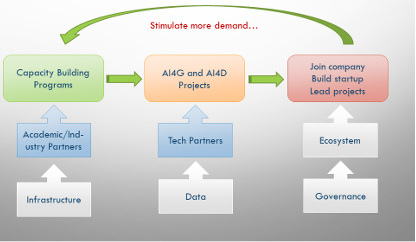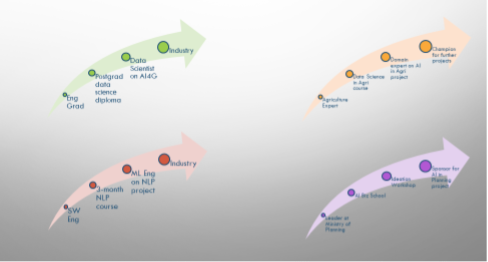 Further reading:
---
Sign up for OECD artificial intelligence newsletter
---
Building human capacity and preparing for labour market transformation
Fostering a digital ecosystem for AI
Human-centred values and fairness
Inclusive growth, sustainable development and well-being
International co-operation for trustworthy AI
Investing in AI research and development
Development
AI for Development
Innovation
Labour Markets
Skills
Egypt
---