OECD Network of Experts on AI (ONE AI)
The OECD Network of Experts on AI (ONE AI) provides policy, technical and business expert input to inform OECD analysis and recommendations. It is a multi-disciplinary and multi-stakeholder group.
The OECD Network of Experts on AI (ONE AI) is a multi-stakeholder and multi-disciplinary group that provides AI-specific policy advice to the OECD's Committee on Digital Economy Policy (CDEP), and contributes to the OECD Policy Observatory on AI (OECD.AI).
The network also provides the OECD with an outward perspective on AI, serving as a platform for the OECD to share information with other international initiatives and organisations. The network raises awareness about trustworthy AI and other policy initiatives, particularly in instances where international co-operation is useful.
For AI policy experts, the network provides an international community for discussing common AI policy opportunities and challenges in depth. As part of this mission to raise awareness around implementing the OECD AI Principles, members contribute to a wider public dialogue through the OECD Policy Observatory's blog, the AI Wonk.
ONE AI members
The group includes 164 participants, 88 members and 76 observers. The network is richly diverse, bringing together AI experts from many sectors and backgrounds including:
AI policy experts from national governments, international organisations, other institutions and the private sector. Network members from national governments are often AI policy experts in charge of coordinating, designing and implementing national AI strategies.
AI technical experts, such as researchers, computer scientists, engineers etc.
Experts from social sciences and humanities, such as experts in AI-related legal and ethical issues.
More specifically, membership is broken down in the following way:
Government (67),
the EU (3) and IGOs (10),
civil society and academia (25),
the private sector (37),
trade unions (3) and
the technical community (13).
Every year, national and stakeholder delegations either renew or nominate new representatives.
Who nominates ONE AI members?
OECD Members and CDEP Partners, the European Commission and by the four CDEP stakeholder groups: Business at OECD (BIAC); the Trade Union Advisory Committee (TUAC); the OECD Civil Society Information Society Advisory Council (CSISAC); and the Internet Technical Advisory Committee (ITAC).
ONE AI also has representatives from other international governmental organisations, namely the Council of Europe (CoE), the Inter-American Development Bank (IDB), the United Nations, UNESCO and the World Bank.
The OECD Secretariat identified additional experts with complementary expertise to ensure that the network of AI experts as a whole has a good balance of multi-disciplinary expertise. It also take into account stakeholder, gender and regional representation (see Figure 1).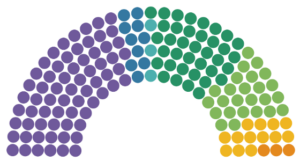 ONE AI builds on the OECD's successful experience with the OECD's first group of AI experts (AIGO), which developed a proposal that formed the basis for the OECD AI Principles adopted in May 2019.